Tailoring Interactions of Random Copolymer Polyelectrolyte Complexes to Remove Nanoplastic Contaminants from Water
Authors
: Jeremy Wang, Curt Waltmann, Caroline Harms, Sumeng Hu, John Hegarty, Benjamin Shindel, Qifeng Wang
,
Vinayak Dravid, Kenneth Shull, John M. Torkelson, and Monica Olvera de la Cruz
Journal: Langmuir (2023)
Abstract
We investigate the usage of polyelectrolyte complex materials for water remediation purposes, specifically their ability to remove nanoplastics from water, on which there is currently little to no prior research. We demonstrate that oppositely charged random copolymers are effective at quantitatively removing nanoplastic contamination from aqueous solution. The mechanisms underlying this remediation ability are explored through computational simulations, with corroborating quartz crystal microbalance adsorption experiments. We find that hydrophobic nanostructures and interactions likely play an important role.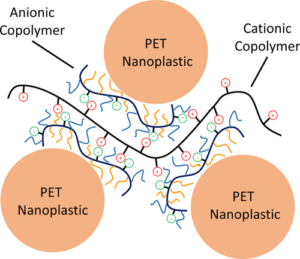 You may read the full paper here.
https://awsensors.com/wp-content/uploads/2020/05/scientific_publication_c.jpg
200
566
AWSensors
https://awsensors.com/wp-content/uploads/2015/07/Logos-AWS-2015-1.png
AWSensors
2023-06-05 10:11:39
2023-07-31 14:17:37
Tailoring Interactions of Random Copolymer Polyelectrolyte Complexes to Remove Nanoplastic Contaminants from Water