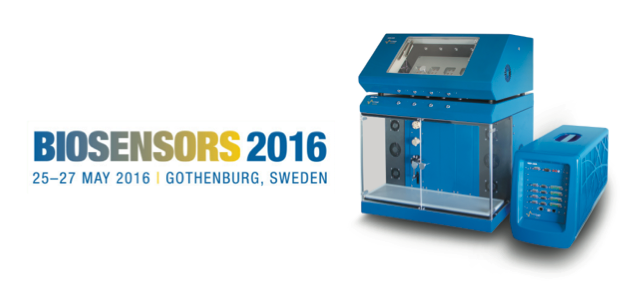 AWSensors technology at Biosensors 2016
May 13th 2016

Visit the booth of our distributor, Bio-Logic, to see our new products
Just one week left for Biosensors 2016! AWSensors technology will be at the most prestigious congress on biosensing research to be held at Gothenburg, Sweden from May 25th to 26th. We are pleased to invite you to see our platforms at the booth of Bio-Logic, our OEM distributor. There, you will see how our platform works.
Our equipment is the only quartz crystal microbalance that allows:
–           Detection and characterization of interface phenomena with high sensitivity (up to 0.05 ng/cm2)
–           Use of different kind of sensors simultaneously.
Our technology is based on two fundamental principles:
Use of high fundamental frequency acoustic resonators (100-150 MHz) that provides a large increase in sensitivity.
Use of a novel method for characterizing these sensors which keeps noise at very low level.
As a result, an improvement in the limit of detection (LOD) of 2 orders of magnitude compared to traditional acoustic sensors is obtained.
Do not miss the opportunity to check the advantages of our new technology and meet AWSensors founder, Prof. Antonio Arnau. He is coordinator of the International Network of Piezoelectric Transducers Research and Applications (PETRA) and has wide expertise on bioelectronics and acoustic wave biosensors.
Dr. Arnau will attend the Post Congress Symposium in Cancer Diagnostics to be held on Saturday 28 May inmediately following Biosensors 2016. AWSensors is currently coordinating LiqBiopSens European Project to develop a new liquid biopsy platform for early detection of colorectal cancer.


https://awsensors.com/wp-content/uploads/2016/05/Foto-noticia-1.png
291
634
AWSensors
https://awsensors.com/wp-content/uploads/2015/07/Logos-AWS-2015-1.png
AWSensors
2016-05-13 09:42:14
2017-09-22 10:59:52
AWSensors technology at Biosensors 2016